I'm currently building assets for future compositions in Blender.  This is a kerosene lamp model I built for doing some nice dramatic lighting effects for night scenes.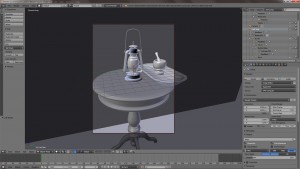 In this scene I'm experimenting with some different effects native to Blender including a volume scatter effect for volumetric lighting (i.e. – dust or smoke in the room) and a fire simulation effect for the lamp flame.
This is Blender v.2.75 (latest stable release).